Memory Frame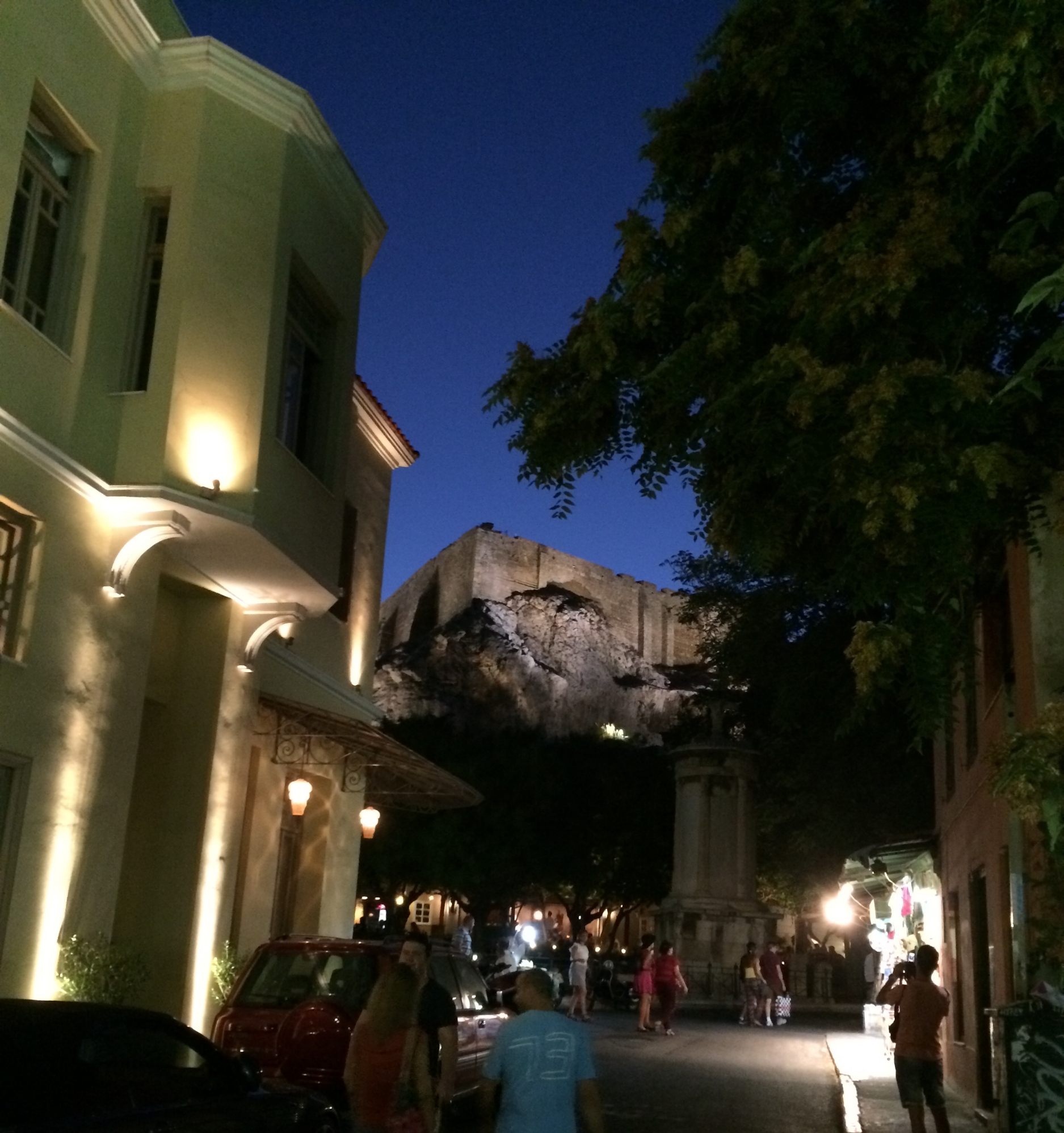 When I look back at pictures taken on travel and trips, my memories are framed by the light of early days, the blue dusky evenings, the smell of food (garlic, onions, lemons, fish), the taste of wine, the winding narrow alleys and cobbled paths our feet would find as we wove through the night time crowds, meandering in the luxury of having nowhere in particular to be.
Athens will always be a blue dusky evening in my memory. We had rooms in the Hotel Parthenon, which overlooked a residence building. Each of these residences had an outdoor terrace. I had my first glass of wine in Athens and watched as a woman ironed, her pile of clothing growing higher, and her husband sat and ate his evening meal, and read the paper, while in the corner, a muted TV was turned on, but strangely seemed to meld into the atmosphere of what can only be described as home. When I think of Athens, it is not the acropolis that comes to mind, but the blue dusk of evening coming on, that time when home-sickness would make me call my mom and ask her to bring me home from a sleepover at my cousins. Blue dusk is where you find your core, where your feet are firmly planted. I felt as I overlooked that tableau in Athens, that I was given a privileged view of their home. Grateful for the lens of my camera to capture such a memory.
Later, after dinner, we wandered the streets, content to gaze up at a deep midnight blue night sky, and see a full moon and a spot-lit acropolis, and enjoy being part of the community who had travelled far as well, to visit such an amazing city. And as it is with the best of bars, we found unexpectedly an open doorway backlit by hundreds of neon bottles, and without further consideration, settled in to enjoy our first drinks of ouzo in the fabulous country of Greece. And while the photo I have taken of the backlit bar will remain one of my favourites, it is also this one of a small inconsequential moment that I will remember first.
I have devoted a new section of my blog entitled The Magazine to pictures I've taken on our trips. I hope you will take a look and be inspired to think about your own memories that are perhaps framed by a particular moment behind the lens of a camera.