Stepping
Can you pause for a moment, and think about all the phases that a woman goes through, the stepping stones she carefully balances upon, to figure out her next adventure? We are really quite amazing.
As little girls with dolls and picture books, to playing in tree forts and snow caves, then onto braces as a pre-teen and hanging posters on our walls. Our teenage years arrive, and we have a new friend for life that requires tampons. Pimples, and learning how to pluck our eyebrows, and sneaking our big sister's razor to start the lifelong habit of shaving in order to wear that new short skirt to school the next day. Nail polish, and bubblegum lip scrub, and mascara, lengthening or thickening - which to choose. Our first lipstick, oh how we love a pretty lipstick. Falling in love, out of love, crushes, hates, miseries, highs and lows. How did our mothers survive us?
I've been doing a lot of thinking about the stepping stones in a woman's life. Some of us have the privilege of passing into each new decade, while others we have lost, their lives stopped by cancer, accidents, depression. It is a sometimes heartbreaking progression, this aging process. There have been many changes since my days as a teenager, party girl, mom in her thirties, career in my 40's. So tongue in cheek, here are a few pieces of sage wisdom for those younger than I. This is from my own perspective, based on my own experiences, and so take it as you will.
Twenties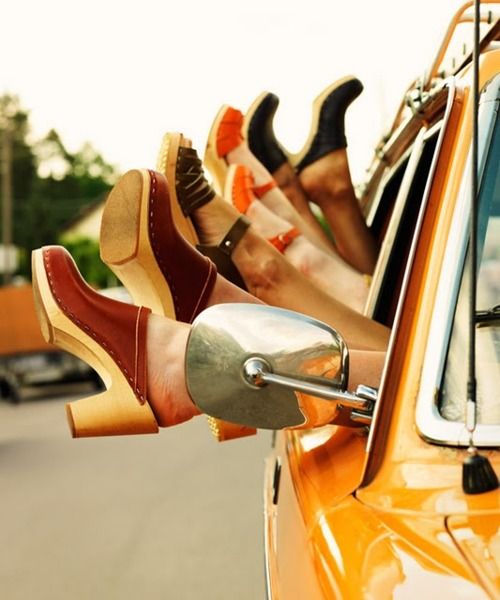 Date a lot, explore your city, revel in your youth, your body without cellulite, your beauty, your health, and god, your amazing stamina. That ability to pull all-nighters, to party with your girls.
▪ Get the best education you can for your parent's money. Do it now, going back to school in your thirties with potentially a few wee one's hanging off the bottom of your jeans is not fun.
▪ Find a profession that will pay you enough to allow you to live in your own place, and not be in debt forever.
▪ Moisturize, use sun screen.
▪ Dump the losers who do not call. If they are not enthralled with you now, this is not likely to change. I like the line in the movie "Sleepless in Seattle": 'Marriage is hard enough without bringing such low expectations into it'.
▪ Don't marry just because all your friends are doing it, or because you want children. Do not believe that it is normal to head into marriage, and no longer want to rip off his clothes when you see him. Physical attraction is just as important as being great friends and compatible. In other words, be true to what your little inner voice is telling you. You know what you want and need and what is best for you.
Thirties
Career girl, mother, wife. Remember who you are and what you like. Caffeine can be your friend.
▪ Organize yourself and have some fun doing it: creating vision boards and a physical space that reflects your personality will become an oasis at the end of a hard day.
▪ Always stock a good drug cabinet - kids cold and flu medicine, same meds for you, bandaids, polysporin, lots of extra strength anything. Your motto is Be Prepared.
▪ Exercise your arms.
▪ Have an equal voice on all things, and if you do not have any ideas of your own, find them.
▪ Keep those girlfriends in your life. Be self-confident in your work, even if you have to fake it.
Don't build up a boss' ego, to curry favour - it is destined to backfire. The glass ceiling is solidly in place, my lovelies, so be prepared, but do it on your own terms.
▪ I think the most damaging word in a role for a woman is to have the adjective 'Supporting' somewhere in the job title - be selective in what job you take.
▪ Buy yourself nice things, lovely clothes, a woman in her thirties is truly a gorgeous thing to behold.
▪ Look at your finances and put aside some little amount if you can for a monthly treat. Contribute to a pension plan, you will not regret this, and you will likely not miss the amount once the first few paycheques have come in with the designated amount pulled out.
▪ Most important, maintain some girlfriend relationships. It is so easy to become isolated and lose your sense of self and what is right for you. Girlfriends will always steer you right.
Forties
Keep exercising, (yes, the triceps for sure).
▪ White teeth make a difference, so take care of your teeth.
▪ White crisp blouses are a gift from the universe and women in their forties rock them like no other age group.
▪ Freedom can be heady - kids can self-manage, dinner is not always expected on the table at a certain hour. Figure out what you want. If there is a lack of something, be very careful about what, how and sometimes, who you choose to add into the mix.
▪ Go for the gold in your career. Once people move into the next decade, it is much more difficult to be promoted, to reach a higher tax bracket.
▪ Educate, educate, educate. Use that freedom and take courses, get alternate degrees. Learning and having another degree is so empowering.
▪ By now, you can hopefully afford some labels. Buy some signature pieces, and at least one woo-hoo dress.
Fifties
Mentor younger women, be kind, share your life experiences if they ask.
▪ Read, stay physically fit. Cherish your health, wealth, and be curious.
▪ Reach out to women your age.
▪ Menopause is challenging, support and empathy await you.
▪ I'm still collecting wisdom for this decade - what's your advice?
Sixties
I'm not there yet, but would love to hear from those of you that have some wisdom to share. This article on Tricia Cusden, founder of Look Fabulous Forever makeup line for women over 50, is inspiring. This is what I want for my life. To keep dreaming and achieving as long as I am able.
And hopefully I am hopping those stepping stones in heels.