Cranberry Crumble Coffee Cake
The last few weekends I've baked carrot cakes, and white & dark chocolate custard brownies, and now this cranberry crumble coffee cake. Baking pulls me in, and diverts thoughts away from what happened during the week, and allows me to focus on a comforting pattern of measuring, stirring, blending, tasting, adding eggs, whipping, pouring, scraping and then seeing and smelling all of the effort with the end result being a wonderful tart yet sweet brown sugar crumbly mouth watering cake like the one below. Hope you enjoy. This recipe is from the Smitten Kitchen, although I did change some of the ingredients, and altered some of the measurements. The link to the original recipe is below, and Deb Perelman's site is a favourite for all things of sustenance.
For the Cranberries
2 cups frozen cranberries (no thawing required)
1/4 cup sugar
2 teaspoons of cornstarch
1/4 teaspoon ginger
1/4 teaspoon cinnamon
Crumble Topping
1/3 cup granulated sugar
1/3 cup brown sugar
1 teaspoon ground cinnamon
1/4 teaspoon ginger
bit of salt
Just over 1/2 butter
1 1/2 cups all-purpose flour
Cranberry Cake
1/3 sour cream
1 large egg + 1 more yolk
2 teaspoons vanilla extract
1 cup all-purpose flour
1/2 cup sugar
3/4 tsp baking soda
1/4 teaspoon salt
6 tablespoons of soft butter
"You better have fun. Because you're gonna be gone in a minute."
prep the cranberries - i like to leave them whole
In a medium size bowl, mix the cranberries, sugar, cornstarch, ginger, and cinnamon together to coat the cranberries. You can add less sugar, I always use too much because of my sweet tooth! The original recipe from Smitten Kitchen called for rhubarb and a quarter cup of sugar, and that's what I added, but it doesn't really get absorbed into the cranberries, so I'm sure you could get away with a lot less sugar.
Set these aside.
basically warm butter brown sugar topping (yum)
Melt the butter, and place in a large bowl. Add in the spices, sugars, salt. Mix until combined. Then add in the flour. It will feel very solid, and that's okay! Leave it as a lump in the bowl, and set aside.
Note: Crumble at times defeats me. I can make my mom's recipe for the topping time after time, and some days it works, and others not so much. If anyone out there has tips on what the steps are that guarantee a good crumble, send them my way.
get the cake going so you can eat basically the warm brown sugar topping
In a small bowl, stir together the sour cream and the eggs and the vanilla.
In a bowl with an electric stand mixer with a paddle attachment, mix the flour, sugar, baking soda, and salt.
Note: I have a stand mixer, but the recipe is fairly basic, I think a hand mixer would likely get the job done as well. please let me know if you try it with a hand mixer.
To the flour mixture in the mixer bowl, add the butter, and a big spoonful of the sour cream mixture. Mix it together and then increase speed to medium for about half a minute. Add the sour cream in two more batches. Mix about half a minute each time.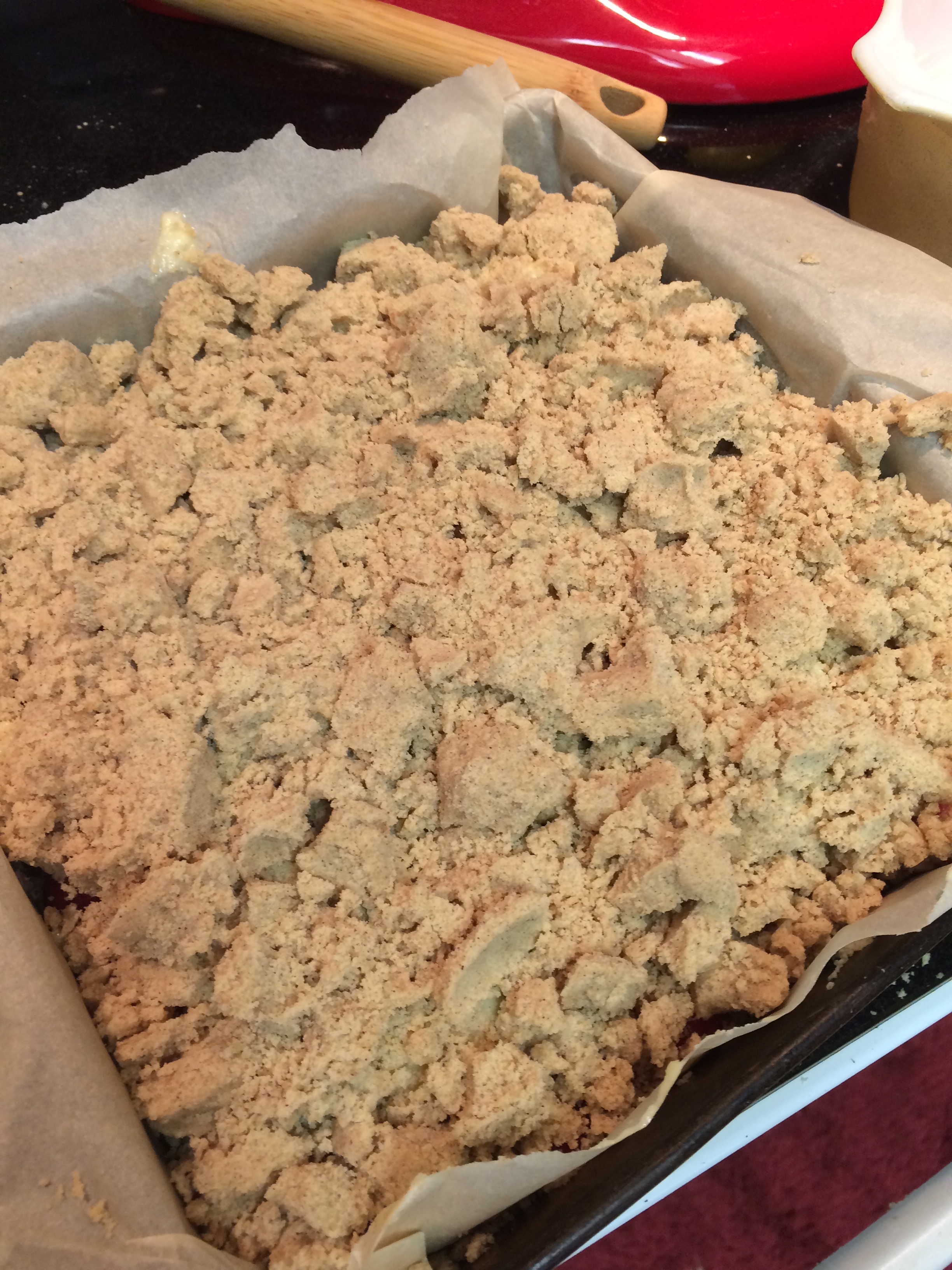 Then scrape about half of this into the parchment lined pan. Level it out - I use an offset spatula as it's quite thick.
Then layer the cranberries on top. I used my hands to scoop and drop them over the mixture. I added all the loose sugar as well, because the cranberries are quite tart.
Then drop spoonfuls of the remaining batter on the cake all over. Don't spread it or mix it in - pretend that you're making dumplings. I used a tablespoon full, and used another tablespoon to push the dollop off the first spoon onto the mixture.
Finally, on top of this goes the crumble. I like bigger chunks so I squeezed the crumble together and broke off bigger chunks and dropped them on. Frankly, I thought half of it was going on too fine, but it turned out great. Lots of crumbly brown sugar goodness when it came out of the oven.
I baked it about 55 minutes or maybe even longer, but best to set a timer for 45 minutes and start doing the toothpick or knife coming out clean test then.
Life is good with cake in it.